About Oscar…
We have received a handful of private messages to check if they can help to contribute to Oscar's medical fund.
We are extremely grateful for your kindness and gesture! <3

As we are not located in the United States, we will not be able to create any gofundme for him.
Thank you everyone. Xoxo from the Goodest Boy and the Meanie Hooman.

But you can still help the Goodest Boy out with his medical bill via PayPal here: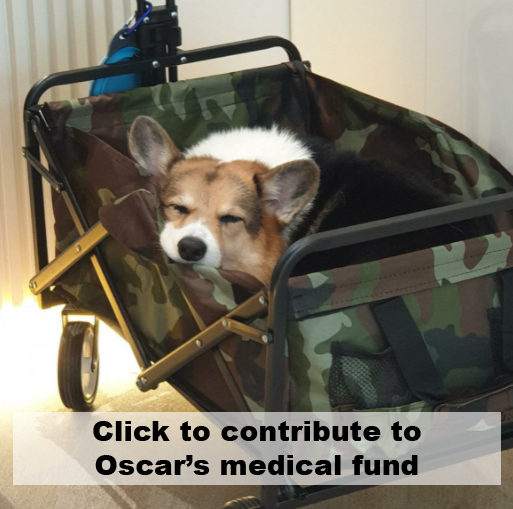 ……
[28 December 2021]
I called the vet first thing in the morning and explained the emergency.
Fortunately, they allowed us to come in as soon as they were open for consultation.
Our vet, Dr Ly at Animal Wellness did a physical examination and frowned because
Oscar was showing pain in his whole back (spinal). This also explained
on the shaking issue. He asked for a xray to be done immediately
to see what is going on in the loaf's body.
The xray result did shows that there are some spinal issue on Oscar.
Fortunately it wasn't slip disc and even though it's not major,
but it's enough to cause pain for him to refuse the shaking part.
The xray result also shows that his liver became smaller and there were a
hell lots of gas in his abdomen which caused the intestines to be haywired.
We did not change any of his diet and he has been on strict diet
ever since the entire episode started.
We were given 9 jabs of antibiotics and mixed with one medicine to
get rid of the gas. I got to jab him at home daily, something that I have
never done before.
The vet mentioned that he suspected hepatitis but there is no confirmation on this yet.
He was also given a painkiller jab and we have to put him on a
light diet (just porridge, tofu and egg white) for the next couple of days till
our next review on the 3 Jan 2022.
[27 December 2021]
Oscar looked really odd on the 27 December when we woke up.
Usually he will shake his body to loosen up the fur whenever he wakes up
but today, he was shaking very mildly – looking as though he was in some pain somewhere.

I measured his temperature and even though it was still within the normal range,
it was already on the higher side – 39.3 Degree Celsius. As it's a Sunday, all
our vets are not working and I decided to just keep him in and monitor closely.
He refused to shake his head too, I know and my sense told me that something was really
off for him and he looked a little restless.
I measured his temperature at night and it was 39.8 Degree Celsius.
This definitely warrants a visit to the vet first thing in the morning tomorrow.
[17 December 2021]
Oscar went for a review after 10 days since our last consultation, also to do a blood test
to check on the liver readings and the platelet counts.
Sadly, we received the official ultrasound report that Oscar did on the 10 December 2021.
Good news is that there is no mass in all his organs while the bad news is,
the liver looks really odd with mild enlargement and round edges.
Oscar's liver readings is still elevated although it's not as bad as the
results taken on the 8 December 2021.
Hooman were told that the goodest boy has liver disease.
He is scheduled to be back to the clinic on 24 Dec for a jab to further helps with his platelet
and also a review 3 weeks later to do another Mammalian Liver Profile test as he is now on
2 liver supplements given by his vet.
---
[25 November 2021]
Hooman noticed Oscar was behaving oddly and looking lethargic.
He is just resting around the whole day, even his favorite foods or favorite family member at the door could not get him running over.
He was also starting to have less appetite and looking very restless. He started having mild diarrhea.
[26 November 2021]
Hooman brought him to one of our primary vet clinics at West Coast Vetcare.
Oscar was promptly attended by Dr Liang and we did a full blood test count.
While the blood test result was not totally off, he has a very slight lower blood platelet which was not a concern at that point in time.
We went home with medicine and advised on more rest.
[27 November 2021]
Oscar was refusing food and consuming less water. Hooman measured his temperature and it was 39.8 degree celsius, we went to the Animal Wellness Center immediately in the morning and was attended by Dr Kevin as Dr Ly (his primary vet) was not working that day. We did another round of blood test count and his platelet was at a dangerous level of 52 (normal platelet was 168+). They also did a ticks fever test and it was negative. The temperature is now 40.2 degree celsius. Dr Kevin gave him a jab and Doxycycline 10mg to return home and rest, was scheduled to come back for a review on 29 November 2021 by Dr Ly.
[29 November 2021]
We went back to the Animal Wellness Center to do a blood test.
His platelet has increased to 125 and he was given Prednisone 1mg to continue with his Doxycycline.
To review in another 7 days.
[6 December 2021]
Back at the Animal Wellness Center with Dr Ly for the third round of blood tests.
Platelet counts were 146 and it was a good improvement.
While we thought everything was on the right track, we were wrong.
[8 December 2021]
Oscar was looking extremely restless and looked exactly like the initial days where he had his fever.
His uncomfortableness has obviously shown in his behavior and looks.
He also rejected his favorite walks and has no energy after taking a few steps.
He had not slept the previous night and was looking extremely lethargic and sleepy but could not get into a comfort position.
Hooman rushed him to Animal Recovery Vet Centre due to his uncomfortableness and was attended by Dr Kelly. We did a full blood count test again and also pancreatitis test (negative). The blood test result came back terrible with elevated level of ALT, ALP, GGT and his platelet was dropping again. Those red readings are mainly pointing to the liver. Hooman is also told that Oscar's blood pressure was mild elevated. We arranged to do an ultrasound the following day to investigate what is going on to his little body. He was given an anti pain jab and we went home. Hooman was told the worst scenario if there's any bad news from the scan.
[9 December 2021]
We went straight to the Animal Wellness Center first thing in the morning before the clinic opens to consult Dr Ly even though we have an appointment with the other clinic for the ultrasound scan. When we presented the blood test result to Dr Ly, Hooman saw how worried Dr Ly was due to the elevated levels and he mentioned he needed an ultrasound scan immediately. Fortunately, it must be the prayers from everyone, Oscar was able to be slot into the ultrasound scan in the same clinic (which is almost impossible, according to the staffs there) so that we will not have to travel elsewhere to do the scan. We waited for the scan result and were told there was good news and also bad news.
The good news is the sonographer shared with us that she could not detect any major concerns during the scan and when she tried to press the scanner against Oscar's belly, he did not react much to it. The bad news is we are back to square one where it's a mystery what is causing all the elevated levels in the blood test and the uncomfortableness in Oscar. He was given two jabs, a medicine and he was sent home to rest.
[10 December 2021]
Oscar seems slightly better by now but we could still see that he's not back to his normal self yet.
We have read everyone's comments and well wishes, and am very thankful for all the support to our pushcart.
This has unloaded a small part of his medical bills which has been constantly increasing to $3,000 in just 1 week plus.
Oscar will need another round of tests again next week and we are keeping our fingers crossed for him.
All Hooman wanted for Christmas is him to be the cheeky, lovely, goodest boy usual self again.